Interesting news article on
BBC about burning an effigy of an Openreach van
.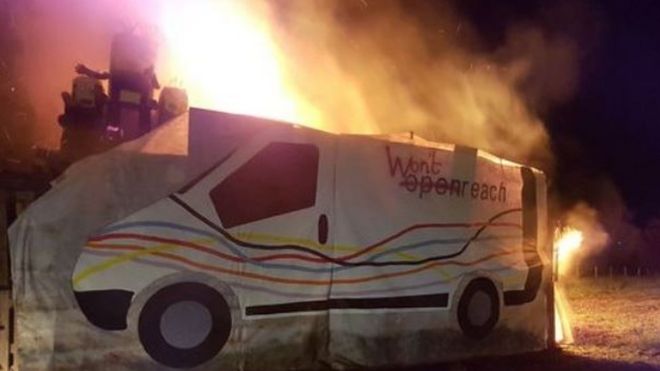 Firstly I would like to say I have some sympathy for anyone that has to endure slow broadband speeds. It is a pain. I have been there. In fact I was lucky when I managed to start using ISDN at 64k after being on 28.8k modems - a big step up from 1200/75 modems I first used. I would say I am
lucky
now that I am on real glass, but that is more down to paying many thousands for a fibre to be dug in rather than luck.
These days there is a lot more content on the Internet, and there is one key thing that generally needs several megabits of capacity - that is streaming video in real time.
Sadly, publicity may get change in this case, which is not really fair on everyone else in the same situation. Good luck to him, and well done if it does.
But let's pull apart the article a bit here, as it does not quite seem right...
BT said Templeton in Devon is extremely rural, which made the rollout of fibre broadband "more challenging". It said it was working hard to find alternative ways of bringing faster broadband to residents, including a community fibre partnership and a mobile broadband solution.
Well, yes. A small town, needing many kilometres of roads or fields dug up to lay a fibre, and possibly for a handful of houses - simple economics - the cost of doing that is way more than the revenue you get from it for many many years. If the residents don't agree, they are welcome to get the road dug and a fibre laid - there are companies that will do that for them. It will be many thousands of pounds per household I expect and only work if they all pay it. It is a shame, but the last few rural areas will be the last to get roll out of such things. I am glad BT are trying to work with them on improvements.
Mr Linden said "It's incompetence of the first order... but we all had a great evening watching the bonfire."
That puzzles me. BT are not incompetent generally, and they can lay a fibre, and will, for the right money. This is not a result of incompetence, it is a result of economics. I will be more than happy to provide Mr Linden with 1Gb/s fibre optic broadband to his home in Templeton if he wishes, for the appropriate fee (many many tens of thousands of pounds), and I'd use Openreach to do it. So not actually incompetence at all.
With a speed of 0.7 megabits per second, Mr Linden says - like many others in the village - he cannot stream anything and is only able to look at emails and occasionally browse the internet.
OK, so he can do browsing, and email, and other things but not stream video in real time. 0.7Mb/s sucks, I agree, but it is not unusable. You can access the Internet. It is a good case where an ad blocker would help matters, I agree. Pretty much all things apart from live streaming video are actually possible, but slow. See below, there are things that can be done...

Adam Short, who moved to the village about 18 months ago, said he helped create the van effigy - marked with the words "won't reach" - on the floor of his barn. "

We knew it was terrible before we moved

, but we hoped there would be a solution," he said.
Hang on, he knew it was terrible before he moved? He "hoped" a solution magically happen? If you moved there and knew the situation beforehand and made an informed choice, really, WTF have you got to moan about?
"Trying to run my business from home is nigh on impossible at times, and I'm one of the lucky ones because I have a 4G signal on the roof with some specialist kit.
This is even more odd, in my view. He moved there, and runs a business from home using the Internet. He knew it was slow. But why would it be impossible - I run a business as we don't need live streaming video - we use web pages, and email, and things using way less bandwidth, all of which are possible.
Also, hang on, he has a solution, some specialised kit (?) to get 4G. So why is he moaning about this. He "hoped" there would be a solution, and, err, there is one, and he has it? What am I missing here?
"It also has an impact on the children in the village as it's restricting their homework."
OMD! (Oh My Dog, I have a dog) this is actually the "think of the children" argument. Please, what homework needs live video streaming? No way, sorry.
What can be done?
There are many ways this could be improved.
A really simple start is some line bonding. We have dealt with people in small villages and they struggled to get 1Mb/s on a line, so had 4 lines bonded. Worked really well. A&A can do that. Costs a bit more, but nothing like fibre dig costs.
They could club together and work on a community fibre initiative (what the BT man suggested), but it will cost.
Anyone could get a fibre service for an arm and a leg - just depends how much they want it.
There are point to point wireless systems - I have a friend in a small village who paid a farmer the other side of the valley that could get FTTC to have a radio link on his roof. Now my friend has over 160Mb/s in just this sort of village.
Satellite is available - it is shit latency but as far as I know it does work and will do 10Mb/s type speeds. It works anywhere you can see the sky and is not stupid money.
4G and mobile solutions exist - one of the people in the village even has this.
So sorry I sound less sympathetic now - the story starts off well, but then almost every quote in the story is wrong in many ways, and it sounds more and more like a pure publicity stunt.
Hopefully they will find more solutions soon...