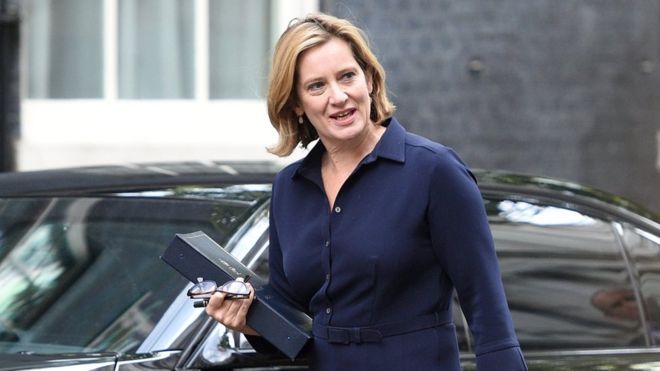 Amber Rudd has made it clear that she feels she does not need to understand encryption. See BBC article
here
.
Really this is not actually an issue on encryption at all. You do not need to understand it, no.
That said, the principles are not hard to understand, and Amber Rudd could take the time to understand those principles. I am sure there are many trusted advisers who will be happy to explain them. It would help understand the
sneering
and
patronising
responses if she understood why her suggestions and comments are so comically stupid.
But let us try to put this in terms a politician should be able to understand.
There is an
activity
which is common in modern society. We'll try and understand how any
activity
could be considered for legislation, whether
encryption
or not.
That activity is conducted by bad actors
. In this instance the bad actors are terrorists and extremists, one of the statistically lowest threats we face in modern society, but an issue which is disproportionately important to politicians for some reason.
That activity is conducted by good actors
. Indeed, it is used by a
lot
of people every day. It is hard to find anyone that does not absolutely rely on this
activity
every day, either directly or indirectly. Everyone with a bank account relies on this
activity
.
Now, because the
activity
is conducted by bad actors, it seems that
something must be done
. It is worth bearing in mind that this is not always the case, and indeed, given that the bad actors in this case, terrorists, represent less of a danger than slipping on a banana skin, the idea of not doing anything is not completely stupid.
So what can be done about this
activity
. Can it be banned? Can it be restricted? Can it be changed? Can it be controlled? Well, this is where understanding the
activity
may help, but let us assume it can be controlled in some way for a moment.
The next question, assuming some legislation can be made that will somehow restrict or control the
activity
, what are the consequences of doing so?
There are two main issues.
Will the restrictions impact the bad actors at all?
Will the restrictions impact the good actors at all?
---

In this case, we can look at the activity being encryption and we look at these points.

Will the restrictions impact the bad actors at all?


MATHS EXISTS! No matter what law you make it is possible for the bad actors to make use of encryption. It is impossible to un-invent mathematics and encryption.




So, we know the answer to point 1 - will this impact the bad actors? Well, not really - they can move on to other apps, other tools, their own apps. They do not even need to do anything difficult or complex. Even if what they do is illegal, they can still do it. There are even ways of hiding what they are doing so you cannot tell so cannot convict them of breaking those laws. See the video at the end of this post for how to encrypt with pen and paper and dice. Maths cannot be un-invented, sorry.

[update: some useful comments on this below] I agree that it is not quite so simple. I cannot say that terrorists will simply use other apps. I can say that open source communities and privacy activists make good quality apps and not some dodgy "home grown" broken crypto, and they are even working on ways to make those apps invisible to police states and oppressive governments, so the apps to use will exist. It seems odd that terrorists would not make use of them. The issue here is that catching one terrorist by such a measure is not worth it - indeed, if you could guarantee to catch every terrorist ever it still would not be worth it - they still are so few and harm so few - we need evidence based laws and policies and it amazes me terrorists are even on the radar ahead of bee stings.




Will the restrictions impact the good actors at all?




UNDERMINING ENCRYPTION CREATES WEAKNESSES THAT CRIMINALS WILL EXPLOIT!




This has been seen over and over again, and the industry is in a constant battle against criminals. A lot of criminals that cost millions of pounds every day one way or another, and exploit companies, and normal people. Unlike terrorism, this is a big issue impacting a lot of people. The battle is now at the stage that the best defence against criminals is end to end encryption which means that even the intermediate companies cannot see the communication. This is because attacks on the data via those intermediate companies is a real threat where criminals can get in (technically or social engineering, etc). So people rely on this level of security, all the time, every day, for their banking, their medical records, everything.




So, now we know, any attempt to restrict encryption will impact the good actors. They will not be motivated to use other apps or do encryption themselves - why would they, as Amber Rudd says, normal people do not care if their WhatsApp chat is encrypted end to end or not (until they are victim of a crime, obviously). Only the bad actors will in fact be motivated to use alternatives.




So, you do not need to understand encryption really.




You just need to know that this activity is used for a minor threat (terrorism) and that any attempt to control it will not impact that threat but will impact all of the good uses of the activity.

Now you can make a choice of how to address the issue.




This is no different to seeing that terrorists use white vans, so banning them!

This is no different to seeing that terrorists use an underground map, so banning them!

This is no different to seeing that terrorists use ball point pens, so banning them!




It is a simple exercise to understand the options and consequences of those options and making the best decision for the country as a whole.